Shopping Cart
Your Cart is Empty
There was an error with PayPal
Click here to try again
Thank you for your business!
You should be receiving an order confirmation from Paypal shortly.
Exit Shopping Cart
Advanced Premium Tax Credit (financial assistance with premiums) are available to individuals with an income level of less than 400% of the Federal Poverty Level. Cost Share Subsidies (assistance with out-of-pocket costs) is available to individuals with an income of less than 250% of the Federal Poverty Level
Required information - people will need to submit when applying for subsidy
•      Names of all family members
•      Social Security numbers of all applicants
•      Dates of birth
•      Gender and ethnicity
•      Employer name
•      Projected income for the upcoming year and sources of income
•      Certain deductions similar to those claimed on a federal income tax return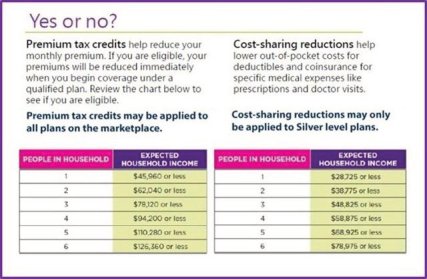 According to Forbes the Obama administration has decided to delay the implementation of the Employer Mandate of the Affordable Care Act (ACA) to 2016. The delay is due to many insurers' and employers' time limitations  to comply with the mandate in order to work out logistics with separate health care providers. Some employers will now have more time before they have to offer insurance to their full-time workforce.
Federal officials stated "the reason for the ACA delay is many insurers and employers needed more time to comply because they used separate companies to help administer major medical coverage and drug benefits, with separate limits on out-of-pocket costs. In many cases, the companies have separate computer systems that cannot communicate with one another."
Changes for Mid-Sized Businesses
Employers with 50-99 workers will have until 2016 to comply with the mandate. This date represents the second delay of this controversial provision. The penalties were initially scheduled to go into effect in 2014, before being delayed last summer to 2015. The new delay gives mid-size businesses more time before facing the $2,000 or $3,000 penalties for failing to provide minimum essential coverage to eligible employees.
According to the
Wall Street Journal
the change for mid-sized businesses will impact about 2% of all American businesses and 7% of all workers, or 7.9 million people. Employers with fewer than 50 full-time equivalent workers currently have no obligation to provide coverage under the law.
Hello clients and friends, the Patient Protection and Affordable Care Act (PPACA), better known as OBAMA CARE, is right around the corner. Whatever your political views,  likes or dislikes, October 1, 2013 the new Marketplace (Exchange) opens. Here you can see what is available, what choices you have, what your cost will be and can make application for coverage if you choose. Plans will become effective January 1 .2014.   I am hoping you have read my newsletters of the past 5 months and you have learned something. If not, you can access them now at
www.judiwoodsagency.com
or give me a call 239 2817378 or shoot me an email
[email protected]
 Most important, know I am officially certified to help you navigate thru this new territory, assist with and help you submit applications for individual or group insurance.
I am available to help see if you are eligible for a tax credit or for cost sharing. The individual coverage will be guaranteed issue and may or may not save you money. Group insurance must comply with regards to carrier and government mandates after your renewals in 2014.  You may have many questions and I am here to answer them for you. So please do not fret...I am just a click or call away!
 I have tried to keep you Informed on Reform* regarding all the facts and fiction circling around about this change in Health Insurance and the types of coverage required. There are some things viewed as positive and some things people are not pleased with. Regardless of all of that, you need to know what your rights are and what your responsibilities are.
Whether you are currently covered via your employee or are an employer, have individual coverage or are currently uninsured, look to Judi l Woods Agency for answers. Even if you are not currently insured with any products thru my agency, know, I am here to help! Therefore, get in touch with me today, you will be glad you did.
All referrals are accepted and appreciated. So pass this information to your friends and colleagues.
Sincerely,
Judi
*CIGNA
As we focus this weeks newsletter on the issue of breast cancer, we want to encourage you to be proactive in maintaining a healthy lifestyle.  Be aware of the resources that are available to you and take advantage of them.  The Affordable Healthcare Act has made it mandatory for insurance companies to pay for the following services without any cost sharing from the policy holder (YOU!):
Breast cancer mammography every 1 to 2 years for women over age 40
Breast cancer chemoprevention counseling for women at high risk for breast cancer
Cervical cancer pap test for women
Prostate cancer screenings for men
Click here to learn about additional preventative care services that are available to women & men under the Affordable Healthcare Act.
Most of us know someone who has been affected by breast cancer in one way or another.  Since October is Breast Cancer Awareness Month we want to help you be aware of the risks and learn about some of the preventative resources that are available to you. 
Consider the Facts:
In 2012, it is estimated that among US women there will be:
- 226,870 new cases of invasive breast cancer 
- 63,300 new cases of "in situ" breast cancer
- 39,510 breast cancer deaths.
A Few of the Known Risk Factors*:
- Being a Woman
- Getting Older
- Starting menopause after age 55
- Never having children
- Having your first child after age 35
- Being overweight or gaining weight as an adult
- Family history of breast, ovarian or prostate cancer  
Mammography and rates of early detection over time  
As mammography screening rates have increased, more cases of breast cancer have been found at earlier stages, when they are most easily and successfully treated. During the 1980s and 1990s, diagnoses of early-stage breast cancer increased greatly. Since the late 1990s, these rates have remained steady. At the same time, diagnoses of advanced stage (metastatic) breast cancer have remained stable or dropped slightly. 
Prevention is key, and as a result of the Affordable Healthcare Act many of these preventative services are available to you with no out of pocket costs through your health insurance carrier. Check our other blog articles to learn more about Healthcare Reform.
References:
*This is not a complete list of risk factors. Consult a medical professional to learn about all of the risk factors of breast cancer.
Did you know that the law calls for dependents to be permitted to be covered under their parent's health insurance until the age of 26?  It does not matter if they are single or married, where they live or what their student status is, they can remain as a dependent on their parent's policy until the age of 26. 
Interested in learning more? 
Click Here
Did you know that many preventive care services are now required to be provided to you without cost-sharing?  Check out the list below from www.informedonreform.com for a general list of services to be offered without copay, coinsurance, or deductible.
Evidence-based preventive services:
This list of items is from the current recommendations of the United States Preventive Services Task Force. This broad list generally includes:
Breast cancer and cervical cancer screenings
Colon cancer screenings
Screening for iron deficiency anemia in pregnancy
Screenings for diabetes, high cholesterol and high blood pressure
Routine vaccinations:
A list of immunizations recommended by the Advisory Committee on Immunization Practices of the Centers for Disease Control and Prevention are included in the rule. They are considered routine for use with children, adolescents, and adults and range from childhood immunizations to periodic tetanus shots for adults.
Prevention for children:
The rule includes preventive care guidelines for children from birth to age 21 developed by the Health Resources and Services Administration with the American Academy of Pediatrics. Services include regular pediatrician visits, vision and hearing screening, developmental assessments, immunizations, and screening and counseling to address obesity.
Prevention for women:
The regulation mandates certain preventive care measures for women. These recommendations will be in place until new requirements for prevention for women are issued by the United States Preventive Services Task Force or appear in comprehensive guidelines supported by the Health Resources and Services Administration. The new requirements are expected to be released by August 1, 2011.
Breast cancer screening:
All women age 40 and over should have an annual mammogram.
To see a more extensive list of services offered 
Click Here
.
Overview
The new Affordable Healthcare Act has set regulations for insurance companies when it comes to how they spend your money.  Insurers are held accountable by the Medical Loss Ratio which outlines the percentage of your premiums insurers must use on medical care costs and how much they can use towards administrative expenses. If the insurance company spends more than 20% of premiums on administrative expenses (15% for large groups) they must provide rebates to policyholders.
FAQ
Will I be receiving a rebate?
It depends on your policy's "block".  The "block" is determined by: the type of policy you have, which insurance company it is, and in which state you are located.  You may contact your insurance company directly to find out if you will be receiving a rebate.
If my policy qualifies for a rebate, when will I be receiving it?
All rebates are due by August 1, 2012.
What if I am on a group policy?
If your policy qualifies for a rebate, your employer will receive the rebate and distribute it in proportion to your employee contribution.  This can be done by either reducing your premium for the following year or by providing you with a cash rebate.  Your employer has the right to decide how these funds will be distributed.
Will I pay taxes on my rebate?
In accordance with the revised regulations that were issued on December 2, 2011, consumers will not pay taxes on any rebates they receive.
If I don't receive a rebate, do I still have access to the insurance companies MLR information?
Insurers are required to provide individual policyholders and subscribers under group plans information about their MLR regardless of whether there is a rebate.
For further questions, you may contact our office at 239-275-5834 or email us at
[email protected]
References Used:
Cigna Informed on Reform, HHS/CMS News Release & HHS/CMS Fact Sheet
/